20 hours around Cretan gastronomy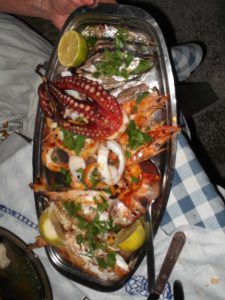 STRONG POINTS :
This stay will allow you to discover all the secrets of Mediterranean cuisine that you can easily redo at home.
10 hours of cooking classes with 4 different chefs
The wine route and olive oil
Gourmet discovery in 3 good restaurants
10 hours of cooking classes with 4 different chefs
4 hours of lessons and tasting with Iosif (head of the Chania Academy of Gastronomy)
The best way to get to know Cretan gastronomy is to explore it with your senses, to get involved in the baking process according to traditional recipes and to indulge in it.
Our master cook will teach you how to prepare a five course meal of the traditional Cretan village with only fresh local ingredients – meat, vegetables, smoked cups, cheeses and much more, all of these recipes are based on the best quality of olive oil. extra virgin olive. .
After the lesson, you can sit down with your new gourmet friends and savor the five-course meal you have just cooked, pairing it with an excellent Cretan wine chosen by our sommelier. Wine and refreshments are free.
After our class, you can prepare a traditional Cretan meal that will delight your senses!
In addition to the memories of this unique experience, you will take with you the recipes with the ingredients, the portions and all the details allowing you to impress your friends at home.
Detailed information on cooking classes: Highlights: Preparation of a traditional five-course Cretan lunch (wine and refreshments included). Includes: Five-course meal with local wine, apron and bandana, recipe folder, coffee and refreshments upon arrival. Duration: 10h30 to 14h30 (~ 4 hours)
Notes: Minimum number of participants 6 people. The maximum number of participants 12 people. The Chania gastronomy classes are adapted to vegetarians; we can adapt the original dishes accordingly for groups of vegans or vegans
Private groups: Possibility to privatize the course or organize dinners, birthday, seminar, …).
Age: Children up to 17 years old (inclusive) must be accompanied by an adult who also participates in Chania's gastronomy activities. Will not be served alcohol but au or fruit juice in this case. Free for children up to 4 years old. 50% discount for children between 5 and 10 years old with a minimum
2 hours of classes and tasting with Rodo (Traditional Cretan tavern manager for more than 15 years)
You will learn how to cook the dishes that inevitably can be found on the menu of a tavern (tsastiki, tarama, vine leaves, squid in sauce or fried, grilled pork or marinated traditional dishes). Also some good desserts unavoidable.
You will learn to organize in the kitchen and cope with many orders.
2 hours of classes and tasting with Katarina (hotel and editor of the Cretan family kitchen manual)
You will learn in Katarina's kitchens her specialties that she mentioned in her Cretan family cookbook. Only good little dishes that are easy to make and that always please your guests. His good mood will make you live a unique moment of sharing and tasting in his hotel by the sea.
2 hours of classes and tasting with Photimi (French speaking) and her husband (chef of a gourmet restaurant ranked Number 1 by Tripadvisor).
You will learn contemporary cuisine while keeping all the flavors of Mediterranean cuisine. Teach you to present your dishes in an elegant and refined way to impress your friends. You will taste your dishes in a very design atmosphere, the restaurant is also an art gallery!
10 hours of gastronomic circuit with Stella
The wine route (selection of the best producers)
The olive oil route (oil mill visit)
Visit local markets (choice of vegetables and wild herbs)
Three good restaurants to discover in Chania (fish restaurant, musical tavern and traditional Cretan cuisine, mountain tavern where Cretans meet for family celebrations).
THIS PRICE INCLUDES:
Accommodation 2 or 3 *** with breakfast (4 **** hotel option + 250 € per pers.).
A car rental category A at the airport basic insurance included (full insurance option + 8 € per day).
The welcome session and discovery of the history of Chania with an aperitif offered.
The 4 cooking classes with meals included. The tour guide wine and olive oil, market visits and gastronomic discoveries to restaurants.
The three meals at the restaurant
The guarantee of deposited funds (professional license).
IMPORTANT: This rate does not apply for the high season (July, August, September) or requires in this case a surcharge. This rate applies for a minimum of 6 people (adults> 12 years old)
THIS PRICE DOES NOT INCLUDED:
A / R flights France – Crete
The evening meals.
Option: accommodation in 4 **** hotel (+ 250 € per pers.)
The tourist tax to be paid to the hotels
Additional information